Dalby Demonstration site
Details and history of the site
Location: East of Dalby
Consultant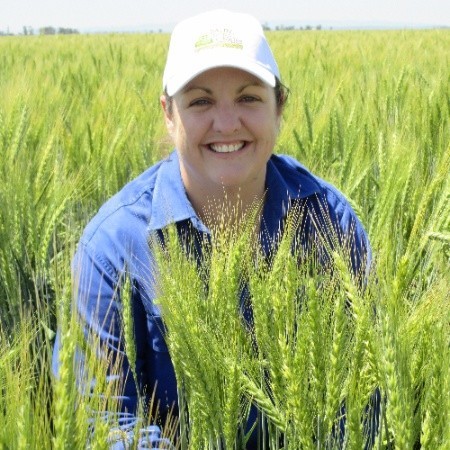 Belinda Chase, Dalby Rural Supplies
The video below outlines the objectives of the Dalby site
Site background
This trial site is a zero till paddock just on the eastern outskirts of Dalby belonging to the Griffiths family. It was sorghum in the 2018/19 summer and the planned Dual application at planting was delayed due to rain and by the time we got back to it the sorghum had emerged along with a mass of feathertop Rhodes grass seedlings. The FTR population was so bad in areas that the grower considered spraying out the whole paddock and fallowing through until winter in an effort to get things under control but thankfully it continued to rain and the sorghum was able to compete and we ended up persevering and taking the sorghum through to harvest. But needless to say we were left with a large seedbank of feathertop Rhodes grass. Then drought hit and forced us into fallow until winter 2020 when this paddock was planted to Spartacus Barley which was harvested in November 2020. The paddock has been fallow since harvest and is planned to back to a winter cereal 2021. Due to the dry conditions since the barley was harvested and the low subsoil moisture there has only been one germination of FTR in December 2020 which was our planting rainfall event on the farm also.
Treatments
Trial strips all received 1L/ha of Tiller 242 in crop in the barley and the 'everything but the kitchen sink' also received 750ml/ha of Intervix at this time. Since then the everything strip has also received a residual application on the 11th December 2020 of Dual Gold @ 1L/ha + Balance @ 100g/ha in 80L water and the grower standard strip received an application of 1L/ha of Dual Gold on the 6th of January 2021. The whole paddock (including the 'knockdown only' trial strip) received a knockdown spray for FTR and a variety of other weeds in late December also – Gladiator @1.5L//ha + Leopard @ 500ml/ha followed by a double knock of Gramoxone @ 4L/100L water through the growers Weed-IT machine which did a fantastic job of cleaning up the weeds that were there. Due to the low rainfall totals in the following weeks after these residual applications we have only had one further knockdown herbicide application of 2L/ha Gladiator for control of weeds such as volunteer barley and milk thistle (no further FTR has been noted to date) although another was planned (again Glyphosate only) prior to this rainfall event but wasn't completed.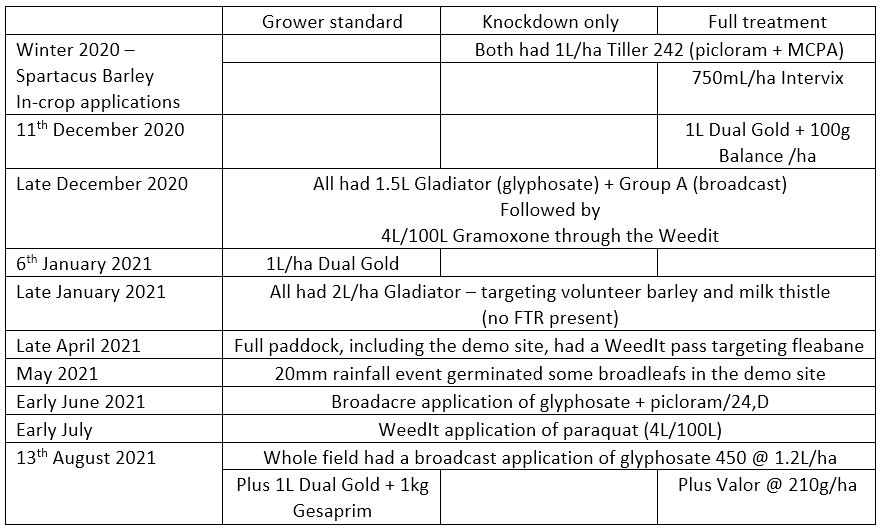 Status updates
October 2020
November 2020
December 2020
There has been enough rainfall to germinate some FTR, with plants outside of the demo site being larger and more frequent. The entire field was subsequently treated with a Glyphosate + Group A followed by paraquat double knock.
January 2021
In a nutshell my 'everything but the kitchen sink' received it's residuals before Christmas and the 'grower standard' plot received a residual herbicide application in early January prior to a rain event. The paddock as a whole has also had a glyphosate/group A application (broadacre) double knocked with paraquat through a Weed-IT machine. Then last week it received a further glyphosate knockdown spray, predominantly to control the volunteer Barley. While we did have a good flush of FTR before that initial knockdown spray we have had very little (and none that I can find in the plots in the last fortnight) further germination of the grass in this paddock – most likely due to the effectiveness of the initial spray followed by very little useful rainfall in the weeks following up until now. We have had a healthy 'germination' of some furry little vermin in this paddock however and it has been baited due to it's proximity to sorghum.
February 2021
Once again still very dry on the downs. As a testament to how low the subsoil moisture is the trial it got under a random storm about 2.5 weeks ago and received 15-20mm. I had a look a week after the storm and again the Monday just gone and there are no fresh weeds of any kind in any of the treatments, the only activity was some fresh mouse digging as demonstrated by the picture. Hopefully I'll have something different to report next month!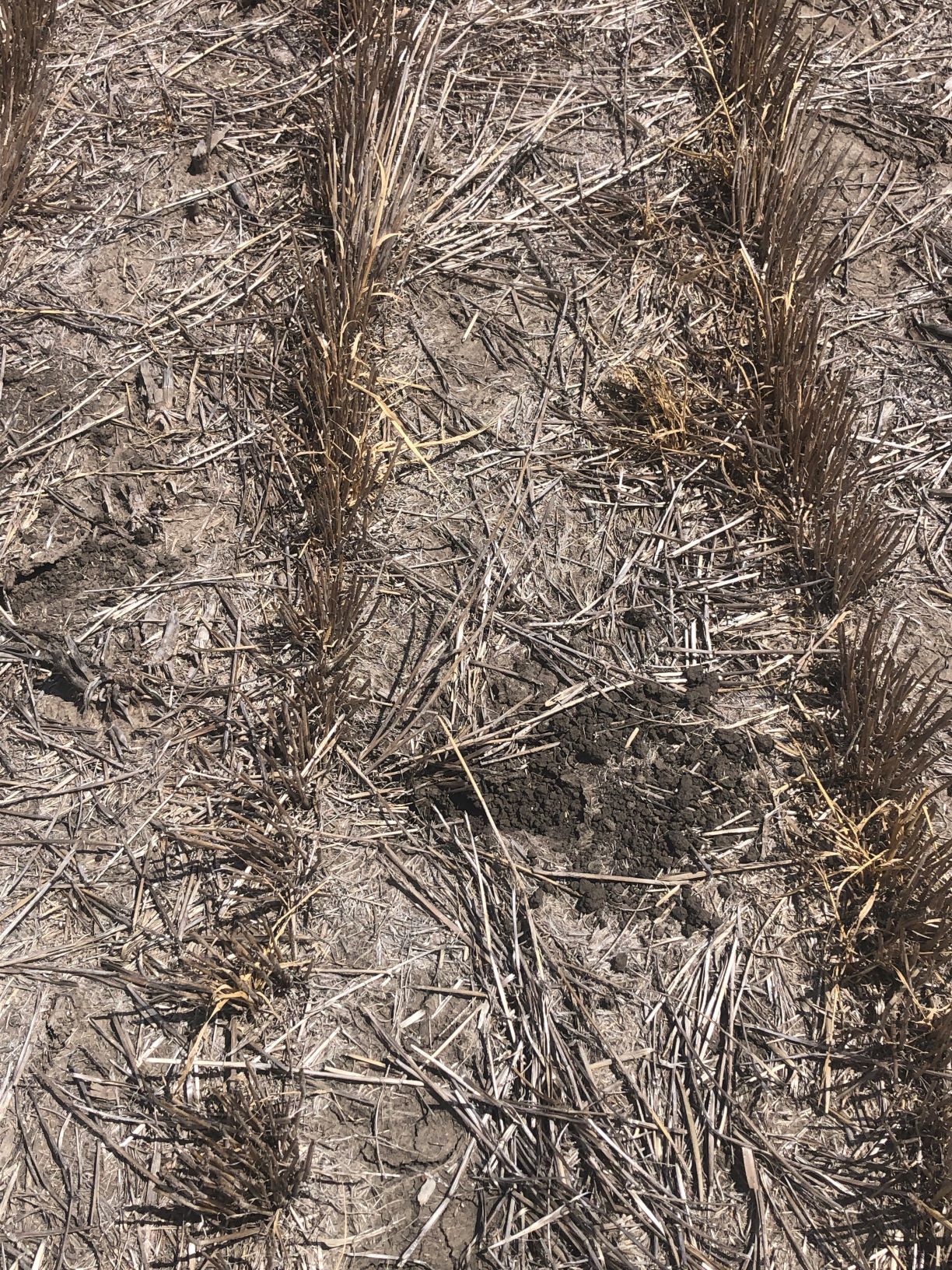 March/April 2021
Site has had no further FTR activity in any of the plots in the last few weeks but there has been some germination of other weeds such as milk thistle, turnip and fleabane and for that it had the Weed-IT put over it late April.
May 2021
Got around 20mm of rain out of thunderstorms first week in May. Plan for this field is to fallow through to sorghum. Videos show the grower standard versus the full treatment and the grower standard and knockdown only. All treatments are relatively clean at this stage, with just a few broadleaf weeds emerging following the rain.